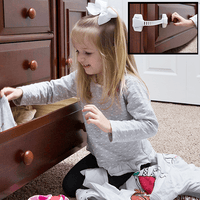 Instantly Childproof Your Home...
Prevent the little ones from accessing the household chemicals, medicine, sharp objects and all sorts of cabinets/drawers and household appliances.
They are designed to be easy to install (3M adhesive foam tapes are used so no tools required!) and versatile in their applications. We've designed it to be triple-action lock release to keep the smartest of babies off limits, but easy enough for adults to lock and unlock.
Buy It From Amazon.com
Prevent Tip-over Accidents...
Did you know that your television set and furniture around the house are sources of hazard in the house, especially if you have small children and pets in the house?
Secure these items with straps that are made of industry standard metal and high quality nylon webbing to ensure sufficient protection for your little one who's adventurous by nature.
Buy It From Amazon.com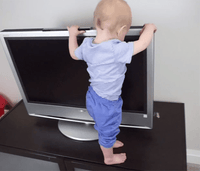 See Our Products In Action!
What People Are Saying About Us...
These baby locks are fantastic! They take just a few minutes to install and they DO NOT BUDGE one bit! I previously had a similar system on there and they were pretty bad. My kids busted it off right away but with this they can not get these doors open! Yay! I can't wait to put the rest all around my house. Best child safety locks I've had so far!

Skyla
I can finally open a cabinet with one hand while holding my baby. Would give this a 10!

Josephine
I installed these locks on my refrigerator, oven, deep freezer, and toilet. They are very effective! My two year old has no idea why he can't open these things anymore. I feel a lot safer with these locks installed. They were very simple to attach and they hold tight! I also did a little test to see if it would leave any marks on the appliances I attached them to. I'm happy to say that there were no marks or sticky residue after removing.

Wanda